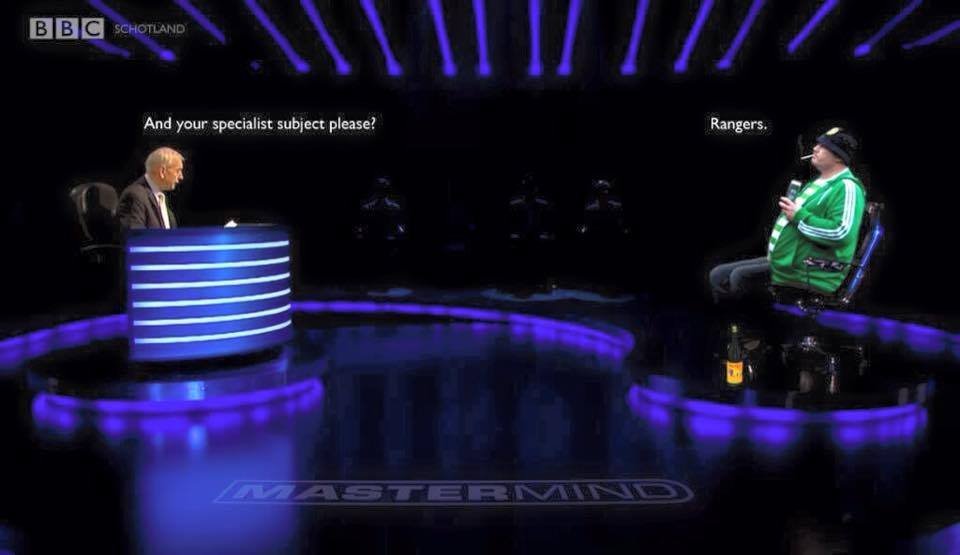 Content Count

5,621

Joined

Last visited

Days Won

2
Community Reputation
716
Excellent
Juve, Man City and Liverpool to progress. Man U v Barca harder to call.

Rangers 3 - Kilmarnock 0 FGS Morelos

McInnes has some nerve. So if it's an 'extra game' his hammer throwers should be allowed to kick their way through it with no repercussions. FULL ARTICLE

I feel that while there may be an argument for Messi being to some degree technically superior I just don't think he brings quite as much to the table in all round sense. For example Ronaldo amongst all his other attributes is a superb header of the ball and has the physical presence (height) to accomplish that. I also have my doubts that anyone would pay a hundred million for a 34 year old Messi though we have a few years to wait before that could be tested given that Messi is 3 years younger. And regarding the physical presence there's an old saying opining that a good big un is always preferable to a good little un. Perhaps the opinion of Sepp Blatter should also be included.

Much as I hate to say it I think Ronaldo is the greatest forward player of all time. Historically I can think of nothing to match him. He has everything. Height, strength, pace, superb ball skills and an ability to put the ball in the net in almost any circumstance. He's the difference between the Real of last year and the Real of this year and the difference between Juventus of last year and this year.

I'm beginning to think that these incidents are becoming so common it may indeed result in a serious injury perhaps even a stabbing. https://www.bbc.com/news/uk-england-london-47523801

I took a day off work to listen in. Going to be a 1:45pm kick off for me.

From being happy about that I then quickly gravitated towards being annoyed that we didn't reduce the gap.

He get's it like we all do and is presumably forming plans to rectify that for next season. A favourable result today could change it somewhat but this deficiency will still exist.

I think everyone including the honest among the hubz faction would agree that we have a far better team than they do and have shown capable of playing at a level way above them. Our gd of 44 to their 11 should all on it's own be enough to illustrate that. But then again we all know we can be inconsistent performance wise and they're the only team in the league we have yet to beat this season. We desperately need the 3 points or a title challenge becomes distinctly unrealistic. Let's hope we play as we know we can and their recent luck against us runs out.

You have to suspect this means he will be staying for at least one more season but it also means we could now profitably hold on to him for at least another two seasons. Good business and I suspect Gerrard is the prime mover in this attempt to keep him.

Incredible stuff. PSG 1 - Man United 3 Lukaku (2'minutes, 30'minutes), Rashford (90'+4minutes pen) Man U win on away goals. Has Solskjaer just booked the job on a permanent basis.

That's something I noticed too and something that should be a factor in any transfer fee.

Comfortably topping the disciplinary league table with 21 points while the closest behind him in second place is Motherwell's Carl McHugh with 11 points. yellow = 1 point Second yellow = 3 points red = 5 points Morelos has 24 league appearances accumulating 8 yellow cards, one second yellow, and two reds.

Probably but Morelos aside a couple of £5 million additions would ease us further ahead of the sheep etc of this league while giving us another nudge towards 55. And a million or so on another good young prospect would be nice.