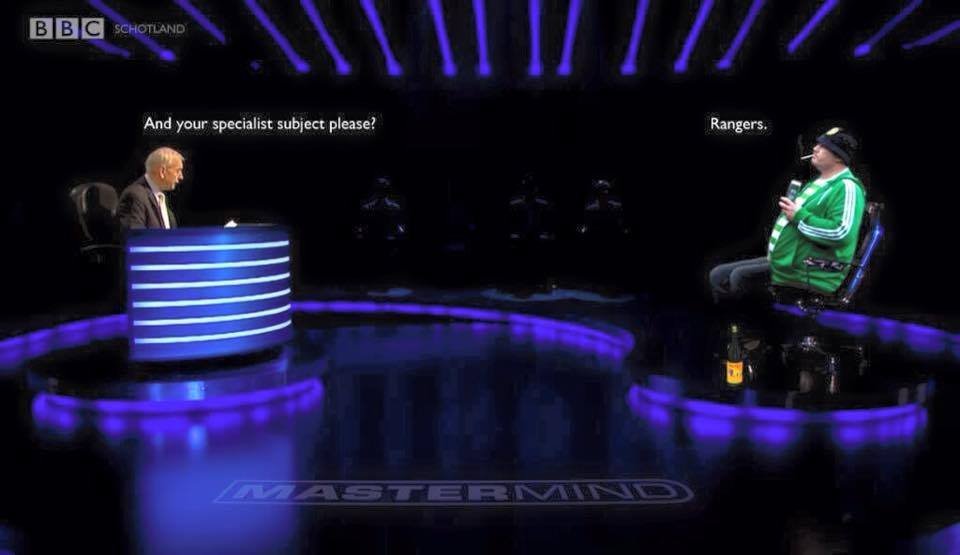 Content Count

5,498

Joined

Last visited

Days Won

2
Community Reputation
688
Excellent
Tonight I just want all of them to go at it the way they did against the yahoos. That type of determination is what's going to be required to get through this tough few weeks and win this league.

Gives Kilmarnock a lot to think about. I would rather have Burke and Jones coming at me than Defoe and Morelos.

Interesting, most including me didn't expect Defoe to start.

The status of the transfer fee crossed my mind too.

They're simply the best in the league at sitting in like a 'small' team which we have often found hard to break down against any small team. Hopefully the new additions can help with that deficiency.

It isn't embarrassing and i'm not going to claim to be a visionary when the overdue drubbing comes. We are miles better than them. Maybe the bookies need some sense of reality? SPL winner betting without yahoos. Rangers 1/6 Sheep 12/1

A recent report says there has been no trace of debris. If they were in a raft they would have been found by now.

Yes we know they do, and we also know they then whine about him having his own way of dealing with what they intend to dish out to him.

I know, which is exactly why they're overdue a drubbing.

Awareness isn't the issue if you think we lose because of something I said. I don't have the influence of Jimmy Bell. 😉

I just don't rate the sheep. Gerrard got it right on day one, we were a class above them and I would argue we're now a couple of classes above them. They're overdue a real drubbing from us.

Nice reportedly preparing an £8 million bid for Morelos. Gerrard response. https://www.eveningtimes.co.uk/sport/rangers/news/17375920.steven-gerrard-insists-an-8million-bid-would-be-disrespectful-to-alfredo-morelos-and-rangers/?ref=mr&lp=5

Steven Gerrard says "every single manager at this level doesn't want plastic pitches" as Rangers prepare to visit Kilmarnock on Wednesday. Rangers winger Jamie Murphy remains sidelined by a knee ligament injury sustained at Rugby Park in August. At the time, Gerrard was critical of artificial surfaces. "I've already given my opinion on plastic pitches at the elite level of football and they should be nowhere to be seen," he reiterated. "I can't change that in 24 hours. I do know that every single manager at this level doesn't want plastic pitches. "But we have to respect the fact that Kilmarnock have got one and we have to go there and perform. "We've been there and done it before. Of course, it cost us Jamie Murphy, which was a huge blow. "Hopefully both sets of players come through the game healthy because there's nothing worse than seeing any player suffer that type of injury." On the day Murphy ruptured his anterior cruciate ligament, ruling him out for the season, Rangers were 3-1 winners in the League Cup. However, Kilmarnock fought out a 1-1 league draw at Ibrox in October and the third-placed Ayrshire hosts are just one point behind Gerrard's men in the Premiership. "They are breathing down our neck and have done very, very well," said Gerrard. "Steve Clarke has done an amazing job there so from my point of view, I am very excited to see the team play." While defender Connor Goldson misses out through injury, January signings Steven Davis and Jermaine Defoe will be available, with the manager explaining: "We are trying to build a very competitive squad and a squad full of quality. "Having a player of Davis' quality in midfield and bringing in a striker of Jermaine's class, we knew the quality was always going to go up. "What I would say, is before they arrived, the team was doing ever so well. The squad was competing at all levels so it is up to the two of them to come and show what they are worth." https://www.bbc.com/sport/football/46967959

And maybe not. An officer started campaigning for the law to change after his police dog was stabbed by a suspected robber and nearly died. Finn was stabbed in the head and chest by a robbery suspect https://news.sky.com/story/finns-law-mps-to-decide-whether-attacking-police-dogs-should-be-criminal-offence-11263253

I think I may once have read that attacks on police dogs are considered police assault in law. If that is indeed the case hopefully it extends to police horses.